Caption Goes Here
Luxury in the heart of Shreveport-Bossier
Paradise wouldn't be complete without a fabulous luxury hotel. You have a license to chill in one of our 395 guest rooms and suites designed with tropical elegance and world-class first-rate amenities. Our suites and Premium corner rooms even offer private balconies – only available in Northwest Louisiana at Margaritaville® Resort Casino.
When you stay at Margaritaville, you'll enjoy everything you expect in a luxury resort from a beautiful tropical pool and elegant spa to extraordinary entertainment and dining.
The Spa & Salon at Margaritaville®
Relax in Luxurious Comfort
Ready to relax and rejuvenate? The Spa & Salon at Margaritaville's team of professionals offer the services and products to bring out your very best.
Experience a variety of massage therapy techniques from one of our Certified Massage Therapists. Indulge your senses with aromatic skin-nourishing ingredients while you relax in luxurious comfort.
Enjoy our wide variety of hair care and salon services. The Spa & Salon at Margaritaville will give you the lift you need for the perfect night out or in.
PENN Play member discounts are offered for all spa services except for our spa specials.
PENN heroes Discount
we thank you!
PENN Heroes members receive an exclusive hotel discount of up to 30% when they use the promo code: HERO



PENN Heroes – honoring those who serve our community and country. All qualifying active-duty military, veterans and first responders are eligible for an exclusive PENN Heroes loyalty card. Learn more.

Valid ID Required. Only valid for PENN Heroes members. Blackout dates may apply. Subject to availability. Management reserves all rights.
Join us poolside for some sun and drinks!
Our pool is available seven days a week exclusively for hotel guests. Persons under the age of 21 are not permitted in the hot tub. (Pool may be closed to hotel guests during special event nights.)
During off-peak months (November-May) there are no pool attendants on duty, should you need any assistance at the pool please contact the Spa and Salon or the Front Desk. Weather conditions and changes in temperature will affect the pool temperature, especially during the months of November – May.
STANDARD POOL INFORMATION:
Off-Season Pool Hours
SUN - THURS | 10AM - 8PM
FRI & SAT | 10AM - 10PM
No children under the age of 5 allowed at the pool (daily).

Under 21 not allowed after 6PM(daily).

No amenities or services at this time.
During rain periods, our pool will remain open during normal hours. In the event thunderstorms, lightning or any other severe weather conditions that may occur, the area will temporarily close for our guest safety.
Amenities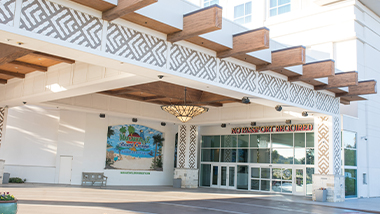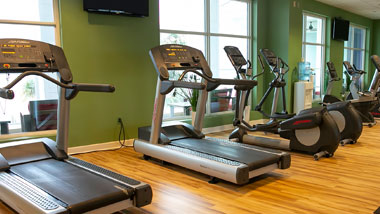 Caption Goes Here
Terms & Conditions
• Check-in begins at 4 PM
• Check-out is at 11 AM
• Late check-outs are subject to an additional charge.
• YOU MUST BE 21 YEARS OF AGE OR OLDER TO RENT A ROOM. Valid State or Federal issued identification is required upon check-in.
• Children under the age of 16 may not be left unattended in a hotel room.
• No one under the age of 18, unless they are accompanied by an adult, is permitted in the fitness center.
• Room type and other requests have been noted but are not guaranteed.
• The hotel offers complimentary in-room safes in each guest room but is not responsible for any item placed in the safe.
• Please lock your vehicle and leave it in a designated area. Property management is not responsible for theft, fire, or other damage that may occur to your vehicle.
• No pets are allowed except for service animals as defined by the Americans with Disabilities Act.
• The hotel reserves the right to enter and visually inspect all guestrooms, even when the REST/Do Not Disturb sign is displayed, to ensure the well-being of our guests and confirm the condition of the room.

• A $250 cleaning fee will be assessed if smoking occurs in a non-smoking room.
• The California Consumer Privacy Act (CCPA) provides California consumers with certain rights concerning the collection, use, sharing and sale of their personal information. The CCPA also provides California consumers with the right to access and delete their personal information, subject to certain limitations. Margaritaville Resort Casino respects the privacy rights of our customers and has adopted practices and policies to comply with the CCPA. To learn more about the personal information that Margaritaville Resort Casino collects about you, and how we use such personal information, please review our Privacy Policy at https://www.pennentertainment.com/privacy-policy
• A no-show fee equal to a one-night hotel stay
or $50.00 for PENN Play complimentary reservations
plus tax will be charged to all reservations that are not cancelled at least 48 hours prior to arrival.
• A valid credit card in the name of the guest on the reservation must be presented at time of check-in
along with a valid State or Federal issued identification
or you will not be permitted to check-in.
•
Secondary guests on the reservation will not be allowed to check-in to the guestroom until the guest who made the reservation has checked-in.
• A hold will be placed on your
credit or debit card
account for the full anticipated amount to be owed to the hotel, plus estimated incidentals, through your check-out date, and such hold may not be released until after the date of check-out or longer at the discretion of your card issuer.
• Personal checks or pre-paid cards are not accepted for check-in.
• In the event you do not officially check out at the time of departure, or if charges are incurred subsequent to your check-out, or if articles are missing from the guestroom, the hotel is authorized to charge the credit card listed on the reservation. You will remain liable until the balance is paid in full.
• Any costs incurred by the hotel as a result of damage in your room, or to furnishings contained therein, or any damages caused by you on the premises may be recouped by the hotel by charging the credit card used to pay for the room.
• We reserve the right to cancel or modify reservations where it appears that a customer has engaged in fraudulent or inappropriate activity.
• Taxes:
15.45 %
per room per night. Room deposit:
$100.00 per stay.
A Resort Fee of
$16.99 tax included,
will be charged per night as summarized on your reservation cost details.
• The amounts listed here are estimated based on current taxes and exchange rates (if applicable) and do not include additional fees/charges that may be incurred during your stay.
• This reservation requires a valid credit card that may be authorized for an advanced deposit equal to one night's stay plus tax and fees
or $50.00 for PENN Play complimentary reservations.
The Best Rate Guarantee applies only to rates available to the general public and bookable online.
Best Rate claims must be received for review within 24 hours of reserving the lower rate and at least
48 hours prior to your arrival.
You do not need to reserve a room on the competing website to take advantage of the Best Rate
Guarantee program.
PENN Entertainment must be able to verify the rate in question is still bookable at the time the Best
Rate claim is made and that it qualifies under the Best Rate Guarantee terms & conditions.
You are solely responsible for cancelling any third-party reservation, regardless of whether the Best
Rate Guarantee claim is approved. PENN Entertainment and its subsidiaries are not
responsible for any fees or other associated costs related to such cancellations.
The Best Rate Guarantee does not apply to the following:
• Claims submitted more than 24 hours after you booked a lower rate;
• Reservations made within 48 hours of the hotel check-in time on your arrival date;
• Discount or negotiated rates not available to the general public, including but not limited to: club, group or organization membership rates, group and corporate rates, government and military rates, casino rates, employee rates, hotel package rates, and unpublished or private rates;
• Prepaid rates that require a voucher or other type of certificate for redemption; and
• Non-refundable rates from third party or auction websites.
The comparison rate provided shall only qualify when used for an identical itinerary; this includes, but
is not limited to, stay dates, room and bed type, number of guests, and any other applicable rate terms
policies or restrictions.
For consecutive multiple night stays the Best Rate Guarantee is calculated based on the room rate per
night and not on the total average stay price.
Only one (1) claim will be accepted for review per stay. A "stay" is defined as the total number of
consecutive nights spent at the hotel by the same guest on one (1) reservation. The name on the claim
form must match the name on the current reservation.
All Best Rate Guarantee requests are subject to review and validation by PENN Entertainment, Inc.
and/or its subsidiaries.
PENN Entertainment reserves the right to deny a Best Rate Guarantee request for any purpose
whatsoever, in its sole discretion.
The Best Rate Guarantee program is subject to suspension during times when our websites or
reservation systems are not available due to an outage or other technical issue.
PENN Entertainment and its subsidiaries reserve the right to modify, suspend or terminate the
Best Rate Guarantee program at any time without prior notice.